Working from height is a hazardous activity which causes an average of 35 fatalities per year in the UK and accounts for 28% of all workplace accidents. Whether mending a roof, painting a high wall, or building a house, using properly installed scaffolding can increase the safety of the height task you are carrying out. Identifying potential accidents before they occur is a crucial step in preventing them. Here are some of the ways you can mitigate the hazards of working from height to keep you as safe as can be.
How to Work at Height Safely
1) Install a Stable Platform
When working from height, it is prudent to install a stable scaffold platform to properly support you (and your workers). Scaffolding provides a flat, well balanced working platform to navigate the area with ease. It allows multiple workers to work on site also, which is a huge advantage when working on a big job with a tight deadline! It is important to ensure that a thorough risk assessment is conducted before any working at height is carried out and that all workers are trained so that they can work safely. As long as the scaffolding undergoes comprehensive and regular inspections to ensure that it is stable for workers and correct training is carried out, there should be no accidents. This means using a reputable scaffolding hire company (like us!) and scheduling weekly scaffold inspections to ensure everything is fitted correctly.
2) Protect Against the Weather
We love living and working here in the most beautiful county in the UK and feel privileged to be the favourite scaffolders in Cornwall! But a few problems can be associated with living in such a beautiful coastal location. The weather can be tricky to predict; one minute it's blue skies and sunshine, the next it's blowing a hoolie and the rain is lashing down. One of the challenges of scaffolding in Cornwall is dealing with such random weather changes and knowing how to make structures safe to mitigate risk.
We have been in the scaffolding business for many years and have become adept at installing weather-preventative measures such as temporary roofs and anti-slip wooden boards where required.  It's more pertinent for Cornish scaffolding companies to exercise impeccable health and safety practices due to the weather, so we ensure we work hard to retain our faultless health and safety record, keeping everyone safe whilst working at height.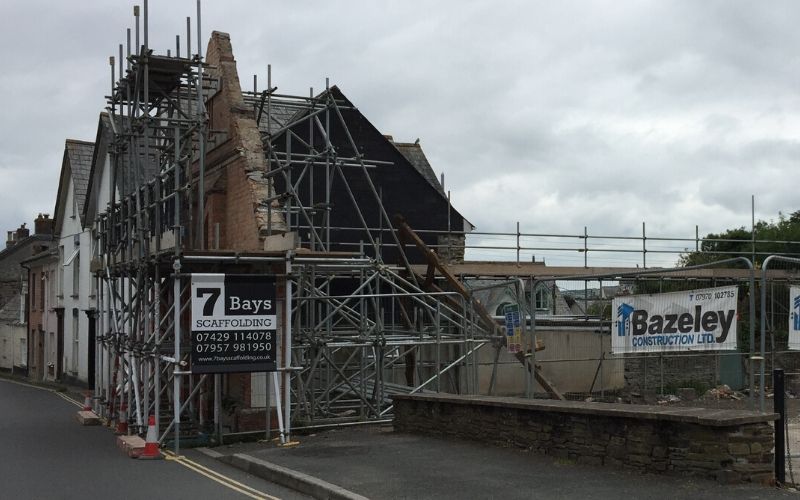 3) Beware of Falling Objects
It isn't just the workers carrying out the work at height who are at risk; anyone in the vicinity or passing by below could be in danger if appropriate safety measures are not undertaken to stop objects falling from above. To prevent objects falling from height it's crucial to ensure that workers know how to stack and store objects to avoid them from being knocked/falling over.
Being well-versed in the challenges of scaffolding in Cornwall, we are experts in overcoming the hazards of working at height as well as the hazards of difficult access and tiny side streets.  We understand that it's crucial to ensure that each working area is well-marked and made as safe as possible. The scaffolding platform may also require guardrails or toe boards to mitigate the risk of objects from slipping over the edge. It's a good idea to put up signage and cones on the ground below to ensure that no passersby walk into the path of danger.  Scaffolding equipment such as safety barrier netting or Heras fencing not only benefits the workers, but also the safety of the general public.
4) Use the Correct Scaffolding
A recent study showed that 72 percent of workers injured in scaffold accidents attributed the accident either to structural malfunction (the planking or support giving way), or to the employee slipping or someone being struck by a falling object. When designed and installed correctly, scaffolding provides a secure stable work platform and is a safe form of access for people working at heights. Scaffolding ensures fast completion of the construction project in hand, whilst guaranteeing the safety of workers and the public in general.
A good scaffolder should always be used when you need to work at height to ensure ultimate site safety. It's so important to have the correct size and type of ladder, crawl boards, lifts and scaffold when working at height to ensure that workers are not cutting corners, leaning too far over or putting themselves at risk in any way whilst working at height. It's important to remember that at least one hand or three limbs should always be on your ladder, and the ladder should be the correct height for the job in hand. It is crucial that safety regulations and measures are adhered to at all times during a building project, no matter how big or small the project may be.
Scaffold safety starts from the ground up. Only safe work conditions and actions will prevent hazards of working at height. That, and using a scaffolding team in Cornwall who takes health and safety issues extremely seriously. We've been offering scaffolding and access solutions for both commercial and residential projects for over 15 years. If you'd like us to quote you for your next job please get in touch and we'll be only too happy to do the honours. We look forward to hearing from you!