Keeping Construction Site Visitors Covid-Safe
Due to the hazardous nature of heavy machinery, site traffic and dangerous materials used on construction sites, welcoming visitors onto site has always been a risk. During these Covid-aware times however it is even more of a Health & Safety issue, so how do you keep visitors safe on a construction site in 2020? We investigate…
Site Inductions
In order to run a safe working environment, all construction sites are required to clearly present the site rules so that visitors and employees alike are made fully aware. Along with this, site managers need to run inductions for every worker on the site. As a duty of care enforced by law, it is essential that public protection is fully imposed in all areas on-site. An induction must also be carried out for visitors to a construction site, especially those who might be visiting frequently such as architects and engineers.  According to the government's guidelines, site inductions must include information about the following issues:
Senior management commitment to health and safety
Outline of the project
Management of the project
First-aid arrangements
Accident and incident reporting arrangements
Arrangements for briefing workers on an ongoing basis, e.g. toolbox talks
Arrangements for consulting the workforce on health and safety matters
Individual worker's responsibility for health and safety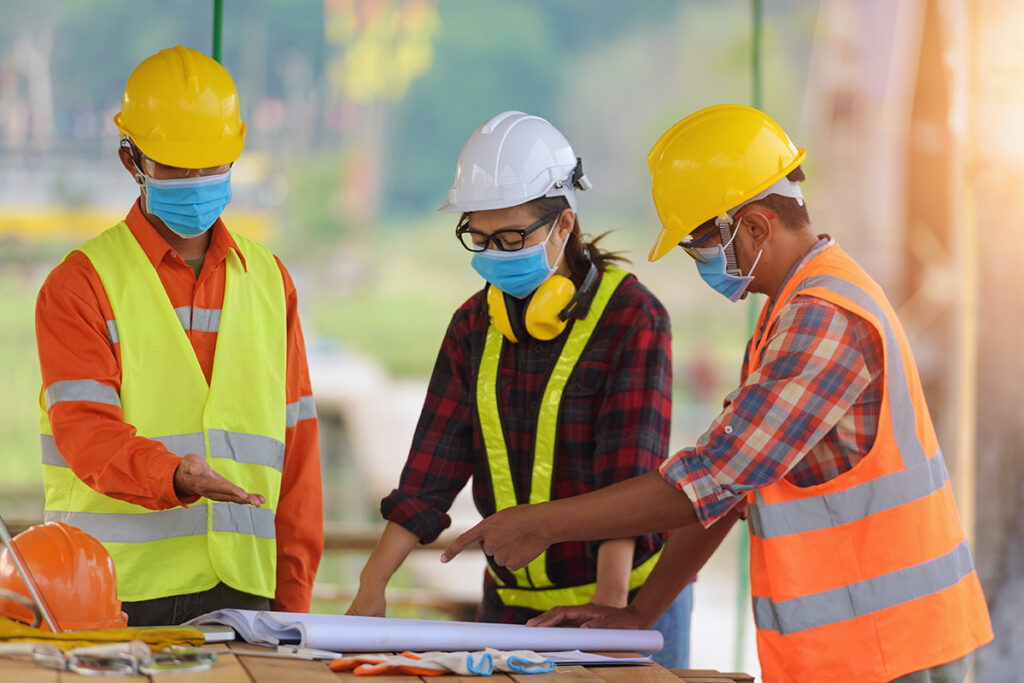 Measures for Keeping Visitors Safe on Site
In these Covid-aware times, visits to construction sites must only be carried out where essential to do so. If physical attendance can be avoided, it must be, and video/telephone calls must be undertaken instead. If site visits are non-avoidable, then the following construction site Covid-19 safety procedures must be implemented:
PPE Task-appropriate PPE must be worn. This could include safety boots, hard hats, gloves, high-vis jackets, hearing protection, Covid-19 face mask and hand sanitiser. Site workers must stay alert and dynamically risk assess their working environment, taking immediate action to stay safe as needed.
Track and Trace All visitors to site must report to the site office and sign in to record data for the track and trace system.
Symptoms Visitors must be made aware that they cannot enter the construction site if they have Covid-19 symptoms such as loss of taste/smell, a high temperature or a persistent cough.
Space A safe distance of 2 metres must be adhered to at all times to adhere with social distancing rules. While working on scaffolding this would be approximately one bay apart vertically, or every other lift vertically. Consider holding meetings in an outside space wherever possible. Congregating around material storage areas, bins or racks should be prohibited unless social distancing rules are observed at all times.
Hand Washing Hands must be washed/sanitised before entering the construction site and again before leaving.
Don't Touch Contact with all surfaces must be avoided wherever possible.
Short Visits Visits to construction sites must be kept as short as possible to avoid contact with other people. If these durations are kept short it will alleviate the potential requirement for comfort breaks and tea/coffee breaks where the distancing and contact with people and surfaces will be harder to manage.
Use Your Own Tools Don't share equipment with others and don't ask site visitors to use your tools or equipment.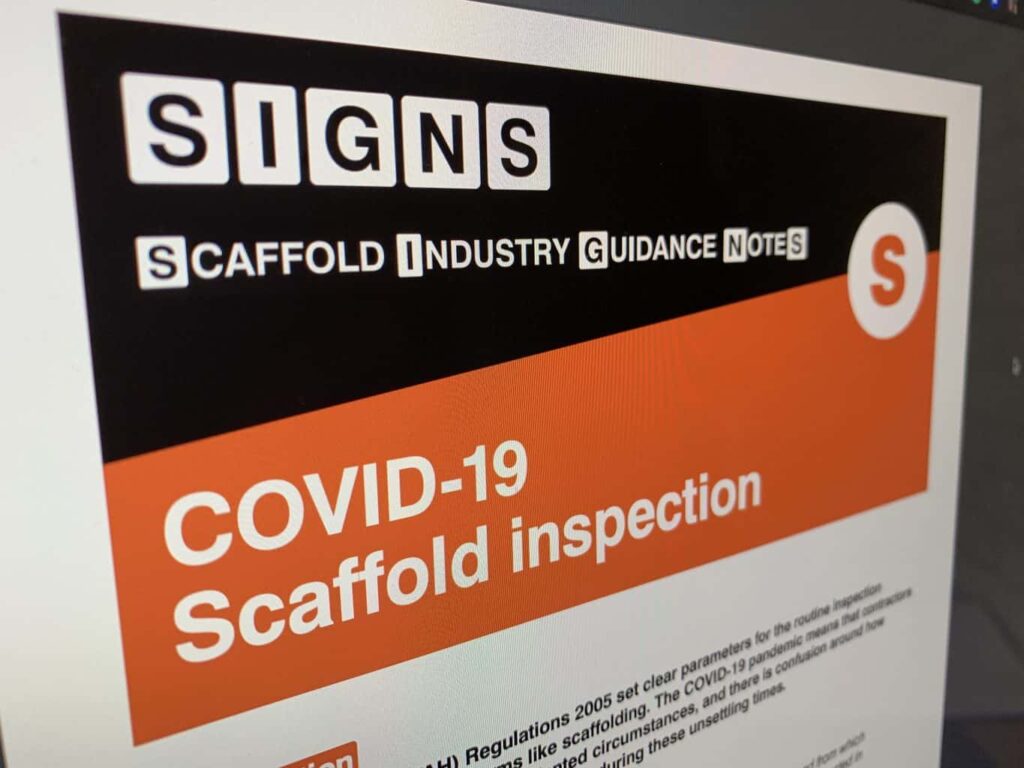 Scaffolding Safety for Site Visitors
Visitors to a building site can be at risk of fall from height or being struck by falling debris/materials, so every measure has to be taken to ensure safety for site visitors using scaffolding. Unless suitable safe access is provided (e.g. system scaffold) and the site visitor is competent to do so, they must not be working/inspecting at height. If scaffold is to be accessed, the site manager  must first confirm that it has been erected and inspected by a competent person, with inspections taking place every 7 days.
When working at height is taking place, the contractor must have set up an exclusion zone at the base of the work at height equipment, displayed suitable signage to identify that working at height is taking place and used guards to prevent falling materials from scaffolds.
Scaffold design can be implemented to safely guide workers and site visitors around a construction site in order to maintain social distancing and ensure that individuals do not pass each other whilst working at height.
Remaining vigilant is important, but so is your mental health and well being. The Scaffolding Association has issued a set of 'Wellbeing Guidance Notes' for scaffolding employees which are regularly updated and a good resource.
If you require scaffolding to keep your construction site safe please do get in touch and we'll be only too happy to assist with a free quotation for your next project. We look forward to working with you!
The Team at 7 Bays Scaffolding