Add Your Heading Text Here


Add Your Heading Text HereFrequently Asked Scaffolding Questions You Always Wanted Answered...
We are scaffolders based in North Cornwall but have completed hundreds of scaffolding projects all over Cornwall and up into Devon too. We never rule out work further afield so try us for a quote and see how well we fare!
✓

I'm Not Sure What Kind Of Scaffolding I Need, Please Can You Help?
Absolutely! Once involved in your project our fully-trained scaffolders will visit your site and work with you to assess your requirements precisely. We provide the expert advice you would expect from us as professionals and are more than happy to advise you.
Yes we do. Our skilled team of scaffolders in Cornwall are fully qualified to undertake all scaffolding services on public buildings, areas and spaces. If any part of the scaffold will be on a public highway or pavement then a permit will be required, however that's something we'll obtain on your behalf and provide to you. We have a very good relationship with county council and can obtain pavement licenses with ease. 
✓ Do You Install Temporary Roofs?
Yes we do! In fact installing temporary roofs in Cornwall is a common job for us, perhaps due to the rather temperamental weather here in our beloved Cornwall. We provide most temporary roofs for homeowners, trade firms and construction companies in winter when the weather takes a turn for the worse. A temporary roof can help protect your construction project from the weather and help you get the job completed on time.
✓ Is My House Insured if I have Scaffolding Up?
This is a commonly asked scaffolding question, and all depends on your own insurer and the type of house insurance policy you have with them. We will provide you with specifications of the scaffold we intend to install should you need to inform the insurance company in more detail.  We can also fit scaffold alarms to the perimeter of a scaffold which would then comply with insurance, depending on your insurer's requirements. 
✓ Do You Take on Building Site Work?
Yes we do, depending on the size of the site and the amount of work required. Give us a call and let us provide a free no obligation quote. 
✓ What Qualifications Do you Hold?
We take health and safety very seriously and go above and beyond to ensure that we can offer our customers (and our workforce) safety and peace of mind at every turn. Below is a list of the qualifications we hold:  
CISRS certified – Part 1, Part 2 & Advanced

Construction Awards Alliance Qualified

CSCS Health and Safety Trained & Certified

PASMA – Complete Mobile Access Tower User

City & Guilds – Fully Qualified Level 2 & 3 NVQ

SSIP-certified
The sky's the limit! As mentioned, we are rigorous in our health and safety and so our scaffolders are fully trained and stick to strict health and safety policies, meaning we can go as high as regulations allow.
✓ Do You Do small residential jobs?
No job is too small and we take pride in being able to turn our hand to a variety of work. Whether a single homeowner needs a temporary roof or a small business owner needs scaffolding to paint the building, we take every care to go above and beyond expectations we're installing scaffolding for a small domestic or bigger commercial project. 
✓ Do You Have Public Liability Insurance?
Yes, we are fully insured up to £10million (but thankfully have never yet had to use it).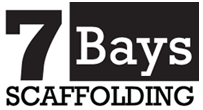 We hope that these frequently asked scaffolding questions offer some help to you when considering which scaffolders in Cornwall to use for your next project. For a free non-obligation quote please don't hesitate to get in touch, we look forward to hearing from you!