Thanks to this (seemingly never-ending!) lock down we are currently all staying at home more than usual. When the same four walls begin to feel a little restrictive, many are dreaming of a house extension to enhance their living space. Whether with the aim of adding value to our home or simply to enlarge the space we live in, house improvement is seeing a huge surge in popularity right now. We have found ourselves providing numerous scaffolding structures for property extensions all over Cornwall. Scaffolding for house extension projects can sometimes cause issues if not handled correctly, so we thought we would explore the ins-and-outs of scaffolding rights so that you can mitigate problems early on.
Can a Neighbour Erect Scaffolding on my Property?
Sometimes when access is tight, there's no other option than to erect some of the scaffolding structure on a neighbouring property. Encroaching on someone else's property with scaffolding has been the cause of many neighbourly disputes, often exacerbated by people not fully understanding the correct regulations and laws.
In these situations, an understanding of regulations depending on the type of work being undertaken is very important:
Repairs and Renovations For essential repairs and renovations (such as a leaky roof for example) it's permissible to erect scaffolding on a neighbour's land as long as notice is given
Extensions and Home Improvement When extending your house or making cosmetic improvements,

a neighbour doesn't have to let you erect scaffolding on their and you won't be allowed to unless they expressly give their permission
In a nutshell as long as adequate notice is given, a neighbour can erect scaffolding on your property (and vice versa) as long as permission is given and the repairs are deemed essential. According to the Access to Neighbouring Land Act 1992, "essential work" must relate to the 'preservation' of an existing structure, as opposed to granting permission to gain access to a neighbour's land in order to make it easier to construct a new development, such as a new conservatory or extension.
Hopefully goodwill would prevail and permission be given – but its important to show the neighbours exactly what the proposed work will entail and to be open with them. As with all these types of issues, cooperation and neighbourly consideration is key to living a harmonious life!
Even when it is not directly affecting them, neighbours often oppose scaffolding for one of the following common concerns:
The scaffolding will block access
The scaffolding will look unsightly
The scaffolding structure may be dangerous and fall on their car/house
Building debris or tools could fall from the scaffolding on to their property
In the case of repairs and renovations, it could well be the case that your neighbours stand to benefit if the next door property is being repaired and would be only too pleased to grant permission. For extensions, the fact you may have secured planning permission wouldn't give you the right to erect scaffolding on the neighbour's property even it was proven as vital to carry out the work successfully.
In the case of it ending up in court, your neighbour would have to prove that erecting scaffolding has caused severe hardship to them, or that it would significantly reduce their capacity for enjoying their own land in order to get a court order to have the scaffolding taken down.
Temporary Roofs for Renovation Projects
Temporary roofs can be crucial for the renovation of buildings; they protect from weathering and stop the building's structural design being weakened. Sometimes we fit temporary roofs as a means of controlling the environment – where specific temperature or humidity control is required for instance.
Installing a temporary roof also helps to protect your workers from rain, snow and wind chill which in turn ensures that work can continue in all weather conditions. Temporary roofs help you to complete your construction projects on time, no matter what the weather which can please neighbours as it means that the project won't be delayed or drag on unecessarily.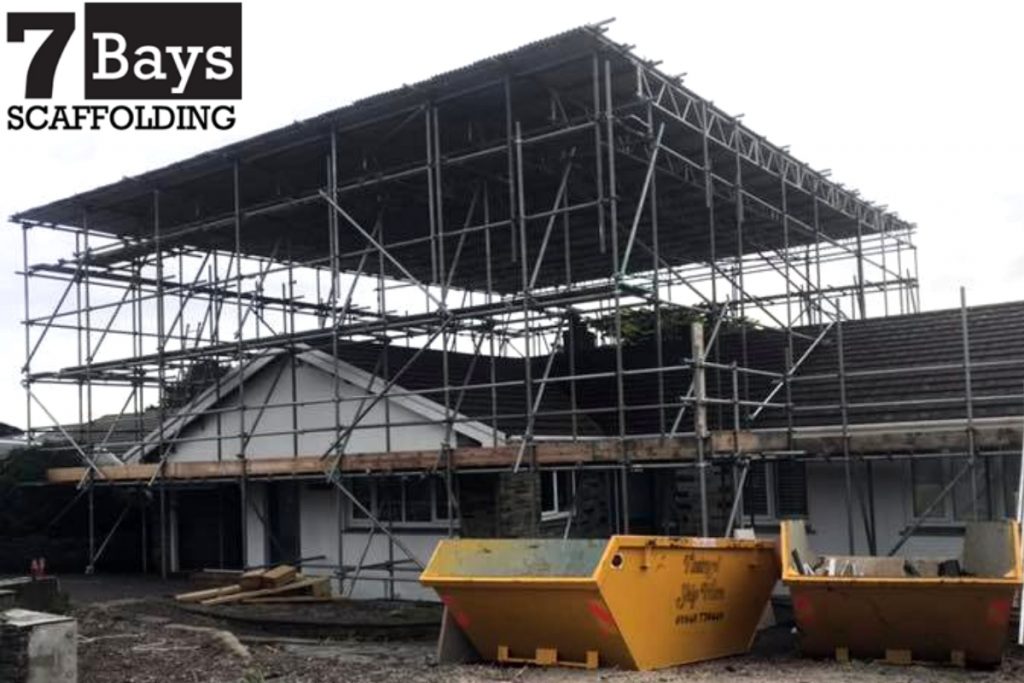 Scaffolding for House Extensions in Cornwall
The most important thing to do is to hire a reputable scaffolder who can guide you through all of this potential turmoil easily and to mitigate problems before they arise. An experienced scaffolder will be able to work with your builder to ensure that scaffolding regulations are adhered to and that they have adequate liability insurance should damage occur to your neighbour's property/land.
A reputable scaffolder will also need to hold the relevant licences to erect scaffolding for a house extension. An experienced scaffolder will know how to erect scaffolding that causes as little intrusion and disruption as possible. If your neighbours realise you're using true professionals they're more likely to cooperate with you.
With over 20+ years experience between the 7 Bays Scaffolding team, our fully trained and qualified scaffolders in Cornwall can complete all aspects of domestic and commercial scaffolding services, regardless of the type, size and job specifications put forward. If you have a house extension or renovation project which requires scaffolding, get in touch and let us quote!