Are you looking for birdcage scaffolding in Cornwall? Here at 7 Bays Scaffolding we are Cornwall's favourite scaffolding company and provide many different types of scaffolding depending on the requirements of the construction project in hand. One of the scaffolding types we do a lot of is bird cage scaffolding. This is a popular choice with our clients and, as the name might suggest, birdcage scaffolding creates a cage-like structure over an area which can then be boarded out to create large platforms/working areas for example, like the interior of a building.
Birdcage scaffold is generally only used for projects with a one-storey elevation, although multi-lift birdcage scaffold structures are possible. Birdcage scaffolds can cover large areas, such as internals of buildings to provide roof/ceiling access, or for protection decks. This kind of scaffolding stands on its own and is easily and quickly assembled making it perfect for contained projects where safety is paramount.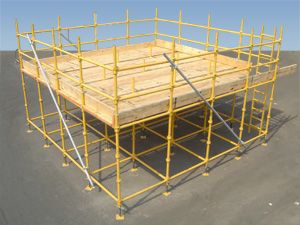 We build your birdcage scaffolding robustly and professionally, allowing you and your tradesmen to work safely at heights on ceilings, walls and floors on platforms and over stairs. Birdcage scaffolds can be quickly constructed, and we can also create large areas of continuous access. Birdcage scaffolding consists of more than two rows of standards which are connected by ledgers and transoms at every lift height.  Sections can be partly decked for speed and economy, making birdcage scaffolding a versatile option for you and your project.
All birdcage scaffolds need to be braced (or tied) to make sure that they're stable enough to withstand the demands of the project in hand, and standards need to be braced to ensure that the scaffold structure is strong enough to carry vertical loading. Birdcages should also be adequately robust to resist lateral sway and horizontal loads, and need to be built to ensure that overturning or collapse is not a risk. External birdcages should also be anchored when necessary to protect from the Cornish elements. All our birdcage scaffolds are erected in accordance with TG20 or, where this is not possible, will be independently designed by a suitably qualified engineer.
Why Choose Birdcage Scaffolding?
Just like many other types of scaffolding services that we provide, birdcage scaffolding creates a temporary platform used to elevate and support workers during the construction, repair or cleaning of a building or project. There's a number of benefits when it comes to birdcage scaffolding in Cornwall. Here are a few below:
Birdcage scaffolding is a high quality platform designed to prevent falls when working at height
Can be installed easily and quickly
Improves productivity as workers are safe
Varying load capacities depending on requirements
Any platform height is possible
We take the time to understand your exact scaffolding requirements before providing the most appropriate solution for your project. For more information on our wide range of scaffolding options, including birdcage scaffolding, don't hesitate to get in touch with our team today. Call 07429 114078  or 07957 981950 to get your free quotation for birdcage scaffolding in Cornwall today!