Types of Scaffolding Explained In a Nutshell
Scaffolding can be installed on buildings to support construction crews and keep them safe for the duration of the project. Scaffolding is an integral part of almost all construction projects and has been used throughout history ever since the first structures were built. Most scaffolding is considered semi-permanent and once used, it can be taken apart and moved to another location before it is constructed again. In the UK, tube and fitting scaffolding is the most commonly used type of scaffolding for roofline installations, property extensions, chimney works, temporary walkways, safety, shoring works, working platforms, waste chutes and a multitude of other projects where access and safe working height is required.
Scaffolding Components
For each type of scaffolding, the basic components of scaffolding are required. These are tubes, couplers and boards.
Scaffolding Tubes are usually made of either steel or aluminium which come in varying lengths and create the load bearing scaffolding structures.
Scaffold Boards provide a working surface for construction workers/scaffold users to walk on safely.
Couplers are the fittings which hold the scaffold tubes together. There are three types: right-angle couplers, swivel couplers and putlog couplers.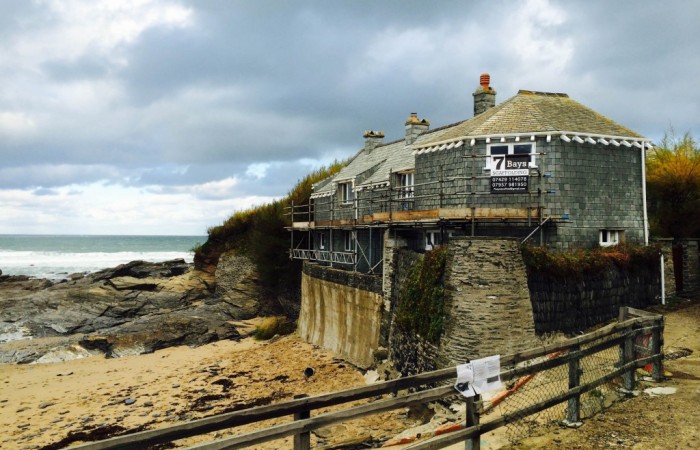 Most Common Types of Scaffolding
For every construction project, the structure and type of scaffolding must be carefully considered; different types of scaffolding are chosen for different scenarios depending on the height, size or duration of works carried out.  We strive to be the most accommodating professional scaffolding company in North Cornwall, so have listed below the most common types of scaffolding to provide a helping hand in your preliminary project planning (you're welcome!)…
Independent Scaffolding
Independent scaffolding is versatile, quick, economical and easy to use. It is the type of scaffolding most commonly used by residential contractors but can be erected several stories high for commercial construction jobs too. Independent scaffolds consist of one or more platforms at approximately 2 metre height intervals. Independent scaffolds are built from the floor up and is supported by the building it is secured to. This type of scaffolding are often thought of as the most convenient and safest form to use.
Birdcage Scaffolding
Birdcage scaffolding is generally only used for projects with a one storey elevation. Birdcage scaffolds can cover large areas, such as internals of buildings to provide roof/ceiling access, protection decks etc. This kind of scaffolding stands on its own and is easily and quickly assembled making it perfect for contained projects such as ceiling work or similar.
Beamwork/Bridges/Gantry
The reason you might choose a beamed scaffolding structure above any other types of scaffolding, is where the building you're working on has tight access or hard to reach areas. Beams can be used to bridge over obstacles and access above or create gantry scaffolds to provide protection below or allow thoroughfare below the scaffold for vehicles, public, pedestrians etc.
Temporary Roof Scaffolding
Temporary roofs can be used to contain your project and protect both the property and the workforce from the elements. With or without an integrated working platform, any size project can be roofed over and sheeted in to protect it. Temporary roofs can help to keep a project running whatever the weather and enable you to plan and schedule works without the added stress of the weather to contend with.
Hiring scaffolding from a professional like 7 Bays Scaffolding means you have peace of mind as your safety is our main concern.
Choosing the Best Type of Scaffolding in North Cornwall
Before you embark on a construction, maintenance or cleaning project, make sure you contact a scaffolding company in North Cornwall that complies with industry best practices will help ensure the safety of your workers, such as 7 Bays Scaffolding (SW) Ltd. From conception to completion, we pride ourselves on providing a seamless and professional scaffolding service for your projects, no matter what the size or longevity.
If you'd like to chat about what types of scaffolding you require, would like a free quotation or have a project which needs specialist scaffolding solutions please get in touch with Adam or Luke to discuss your needs and we'll be only too happy to assist. We look forward to working with you and to providing you with the best options for getting the job done!