If you're looking for tower and scaffolding platform hire in Cornwall then you've certainly come to the right place. Our access tower and scaffold platform hire allows you the flexibility to safely move around your building or site as your work progresses. Using aerial platforms and access towers on your construction site ensures that easy access to hard-to-reach areas can be made safely and that you are operating within all Working at Height regulations. This is not only important for your workers, but it also ensures that passers-by and clients are kept safe and any risk is mitigated.
If you need to hire an access tower for a home renovation or a roofing project in Cornwall, the team here at 7 Bays Scaffolding offer platform hire and access equipment perfect for any work environment. We ensure the highest levels of safety and customer care whilst keeping our prices competitive, and have become Cornwall's favourite scaffolding company thanks to our diligence, safety records and professionalism. Our scaffold hire equipment is ideal for new builds, renovation work, property maintenance and commercial construction. All our scaffolding erectors are members of the CISRS-certified and can make sure you have the best type of access equipment for your project. Our adjustable steel trestles are available in three different sizes and are wide enough to take four standard scaffold boards or lightweight stagings, to create a strong, safe continuous working platform for bricklayers, plasterers, and painters alike.
What is a Scaffold Tower?
A scaffold tower is
a free-standing piece of equipment with a working platform to make access to heights
.  A scaffold tower can easily be moved from one location to another,  are lightweight, mobile and compact, making them easy to transport and enabling versatility. Scaffold towers are a popular piece of equipment for working at height because they allow the user to safely carry out their work with both hands, unlike when using a ladder!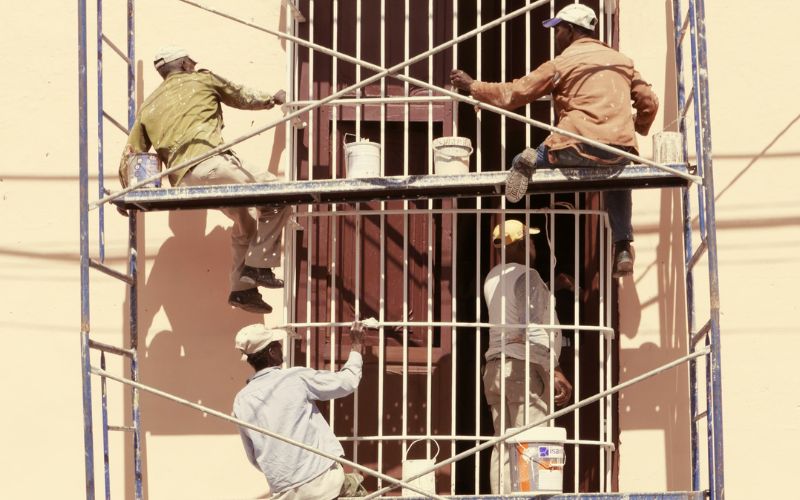 Scaffold Platform Safety Precautions
When looking for scaffold platform hire in Cornwall, you must make sure that you follow these precautions to ensure that everyone is kept as safe as possible and you are not in any breach of safety laws:
You must perform a risk assessment before hiring and using an access tower to ensure your safety and the safety of others
Do not use access towers where there are overhead power lines or similar hazards within your reach
If leaving an erected tower unattended you must block access to the tower by unauthorised persons and that of the tower
Use suitable mesh fencing or boarding to make access impossible. If you can't use fencing then the tower must be dismantled
Only carry tools and materials with you when ascending or descending the scaffold tower if they are safely retained in a tool belt and do not restrict your free
movement
Do not lean from the scaffold tower and never apply undue side force
Never use boxes, steps or similar items to gain additional height on your scaffold platform
When climbing, always keep your feet in the middle of the rungs and grip the upper rungs with your hands (never the sides!)
The most important thing to do is to hire a reputable scaffolder in Cornwall who can guide you through the platform hire options available for your project and advise you on best practice. With over 20+ years experience between the 7 Bays Scaffolding team, our fully trained and qualified scaffolders in Cornwall can complete all aspects of domestic and commercial scaffolding services, regardless of the type, size and job specifications put forward. If you have a house extension or renovation project which requires scaffolding, get in touch and let us quote! We look forward to hearing from you 😉