If you're thinking of hiring a scaffolder in Cornwall (or anywhere else for that matter), it's perhaps obvious that you should first ensure that you choose a highly-accredited scaffolder with many years experience and a trustworthy team who knows what they are doing (like us!). When scaffolding has been erected, it is vital that a competent person must be on site at all times to ensure OSHA guidelines are followed. Along with this, every person who accesses a scaffold has had the appropriate scaffold safety training. This includes erecting, usage and dismantling of scaffolds.
Construction sites can be dangerous places if rules are not followed, and so it's crucial that the following golden rules are adhered to when hiring a scaffolder.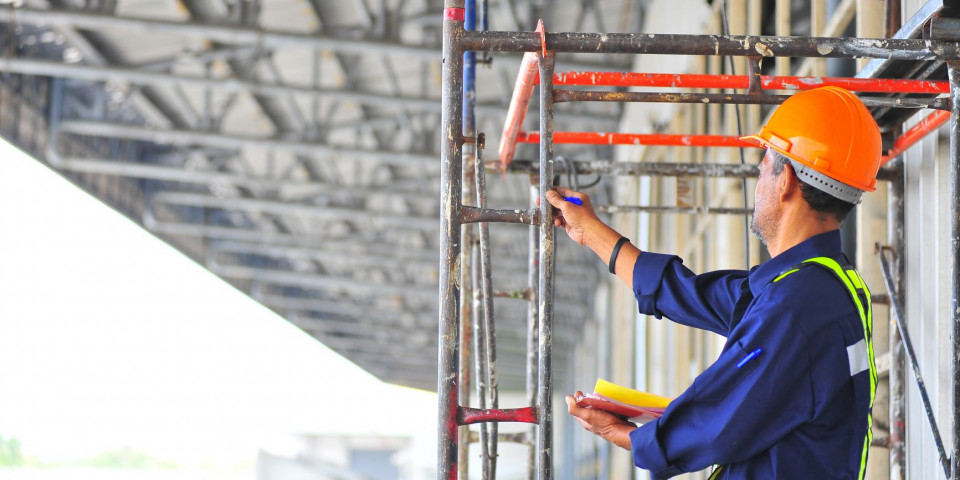 5 Golden Rules When Hiring a Scaffolder
Rule 1: Consider Who Can Use the Scaffolding
Scaffolds must be designed, erected, altered and dismantled only by competent people and the work should be carried out under the direction of a competent supervisor. When hiring a scaffolder, ensure that the scaffolding company you choose uses fully-trained dismantlers and erectors, and that they ensure all Working at Height rules are adhered to. A competent person should be on site at every stage of the scaffolding process; if the person erecting or using the scaffold is untrained, using the structure can become hazardous and there will be risk of injury. Numerous avoidable injuries occur every year and are caused by people using scaffolding who isn't adequately trained.
Rule 2: Ensure that the Correct Calculations are Carried Out
Strength and stability calculations for scaffolding must be carried out unless it is assembled in conformity with a generally recognised standard scaffolding configuration. Scaffolds must be capable of supporting loads likely to be placed on them.  Working platforms are not usually designed to support heavy loads and so if this is the intention of the scaffolding you've hired, then you must inform the scaffold company and they will consider a bespoke design for your scaffolding.
Rule 3:  Toe Boards, Guard Rails and Other Barriers Must be in Place
When you hire scaffolding, it's crucial that the scaffolding company install toe boards and guard rails which are strong and rigid enough to prevent workers from falling. As long as barriers are at least 950 mm high, secure and provide an equivalent standard of protection against falls and materials rolling or being kicked from any edges, any barrier can be used, it doesn't have to be a guard rail as such. These barriers should also be able to withstand any other loads which might be placed on them, for example, guard rails fitted with brick guards need to be capable of supporting a stack of bricks which could fall against them.
Rule 4:  Scaffold Inspections Must Take Place
All scaffolding inspections must be carried out by a competent person whose combination of knowledge, training and experience is appropriate for the type and complexity of the scaffold. Competence may have been assessed under the CISRS or an individual may have received training in inspecting a specific type of system scaffold from a manufacturer/supplier. The scaffold inspection report must note any defects or matters that could give rise to a risk to health and safety and any corrective actions taken, even when those actions are taken promptly, as this assists with the identification of any recurring problem. We offer scaffold inspection services – and Independent Statutory Scaffold inspection and site scaffolding monitoring services are available in accordance with the Work at Height Regulations 2005. Regulation 12 and Schedule 7. The time and effort we put into training our scaffolders and developing health and safety guidelines is shown in our impeccable safety record. It is the person hiring the scaffolder's responsibility to ensure that all scaffolding has been inspected as follows:
After installation/before first use
At an interval of no more than every 7 days thereafter
Following any circumstances liable to jeopardise the safety of the installation e.g. high winds.
Rule 5:  When Hiring a Scaffolder, Use a Scaffolding Checklist
Anyone hiring a scaffolder should use a scaffold checklist  to ensure that you aren't missing any crucial components or safety steps. You will need to give this scaffolding checklist to your scaffolder in order that they can be properly informed about every detail of the scaffolding requirements. Points such as number of boarded lifts required, maximum working loads to be imposed and maximum number of people using the scaffold at any one time, type of access onto the scaffold eg staircase, ladder bay, external ladders, and whether there is a requirement for sheeting, netting, temporary roofs or brick guards will all be points which should be on your checklist. 
Obtaining an SSIP certificate shows our impeccable standards when it comes to health and safety. The importance of scaffolding safety can never be underestimated which is why here at 7 Bays  Scaffolding we do everything within our power to ensure that the scaffolding we erect adheres to all health and safety regulations, is soundly built and as safe as can be. We are a H&S Assessment organisation that takes great pride in our professionalism, customer service and efficiency.
If you hire a scaffolding company in Cornwall like 7 Bays Scaffolding you can be assured of compliance to all rules and guidelines so that you have complete peace of mind. If you want a quote for your next scaffolding please get in touch so you can see how competitive we are. We look forward to hearing from you!