There are so many beautiful listed buildings in Cornwall. From cute harbourside Cornish cottages to converted chapels, sprawling manor houses and everything in between,  we are fortunate to have a rich heritage of architecturally and historically-important buildings all over Cornwall. Any works carried out on a listed building should be professionally managed and implemented to a high standard of craftsmanship, which is why 7 Bays Scaffolding are the first choice when looking for scaffolders specialising in listed buildings in Cornwall.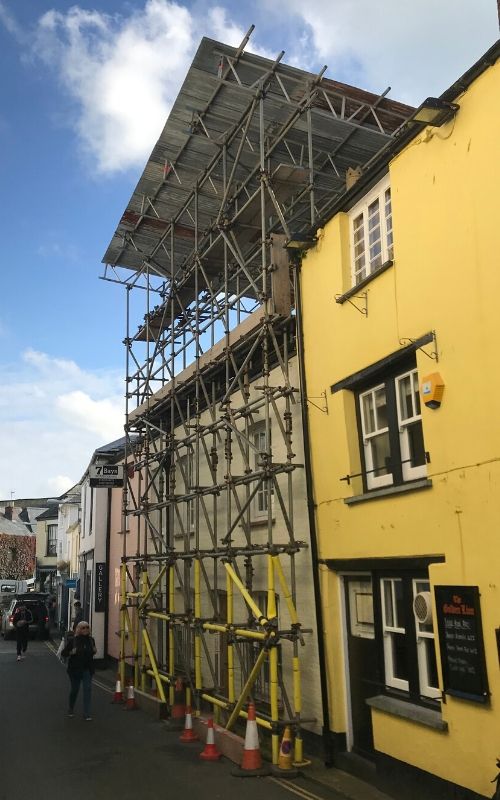 Listing marks and celebrates a building's special architectural and historic interest so that it can be protected for future generations. The older a building is, the more likely it is to be listed; usually a building has to be over 30 years old to be eligible for listing.
Each listed building has its own quirks and unique features, and each will require sympathetic attention when repair, restoration or renovation works are to be undertaken; for example, we earth all scaffolding erected on churches to eliminate the risk to operatives working on the scaffold should it be struck by lightning. We have considerable experience in erecting scaffold on listed buildings and the challenges this specialist area presents, read on to learn how we do it!
How to Erect Scaffolding on Listed Buildings Safely
There are strict regulations restricting how the scaffolding on listed buildings is secured, something which our specialist scaffolders always consider when designing scaffold for listed properties. We understand the importance of not only erecting a sound and safe structure, but also our duty of care when carrying out scaffolding works to listed buildings to ensure that the building's heritage isn't affected in any way.
All points of contact or near contact between scaffolding and historic buildings should be protected in some way. For example, all tube ends that either touch a wall or are within 25mm of it should have plastic end caps to avoid rubbing and causing damage. Historic buildings often have valuable interiors and these need to be protected and preserved. Sheeting used to protect the building must be strong and fire proof, and temporary roofs are often crucial to protect the interiors in the case of roof restoration or fire damage repair.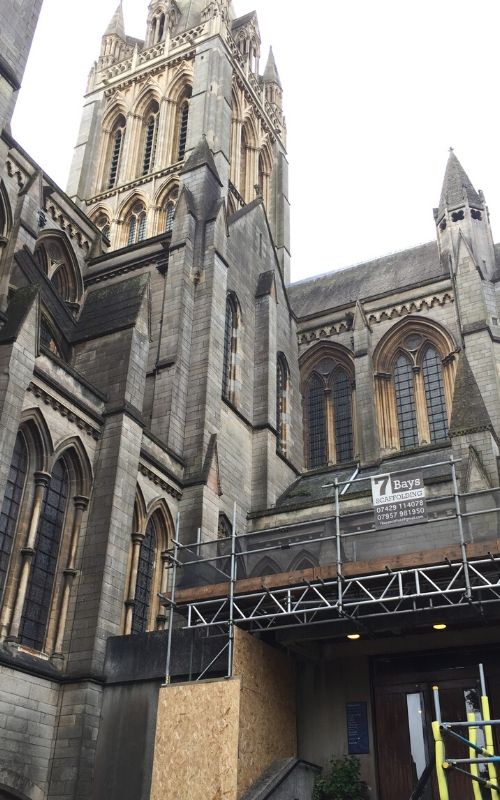 Where fixings are made to stone or brickwork it is necessary to check that the masonry is adequate beforehand.  Such a fixing to a listed building's facade could dislodge a stone or an area of brick thus endangering the safety of the scaffold, and damaging the historic fabric. All fixings made to the wall of an historic structure must be of stainless steel. Listed building consent may be needed before permanent drilled-in fixings are installed. The way in which we secure the scaffold to the building must be done differently to ensure that historic features are retained because where listed buildings are concerned, any damage is permanent and significant features may be lost. It is crucial that listed buildings are not damaged and so we employ specialist techniques to ensure that scaffolding is installed without risk or damage to the historic fabric of the property.
If it is necessary to erect temporary structures on floors or roofs, it is important to ensure that the supporting structure on the listed building can safely bear the weight (or that precautions are taken to ensure that the extra loads will be adequately supported). We take the time to consider all of these aspects of installing scaffolding on a listing building to ensure that the structure is as safe and sound as it would be on a more contemporary building.
Specialist Scaffolders
The safety and success of putting scaffolding on listed historic buildings relies on attention to detail and forethought. Careful planning is crucial because with a historic building there is no second chance! Architects and engineers involved in historic buildings work should also have a clear understanding of the requirements of scaffolding and temporary works and be aware of the consequences if something goes wrong.
Using a specialist team of scaffolders who have years of experience in erecting scaffolding on listed buildings in Cornwall (such as 7 Bays Scaffolding) ensures that your restoration project runs seamlessly and without causing any damage to the beautiful building you are restoring. If you have an upcoming restoration project that needs a team of meticulous and experienced listed building scaffolders in Cornwall, get in touch today and we'll be only too delighted to provide a free quotation.