Whenever you're building, renovating, repairing, or demolishing a structure in a public space, you have to take appropriate measures to protect passersby from falling debris and objects. Sometimes that means temporarily eliminating public access (by closing the pavement for example), but most often it calls for erecting scaffolding with extra features in place to ensure pedestrian safety.
Safety is of paramount importance on any construction site, and making sure everyone is safe extends beyond solely the workers on the site. When carrying out construction projects in the public domain, you must also make sure that pedestrians and passers-by are not under any threat of danger or mishap. One way of mitigating any risk is by installing scaffolding to protect both the workers on the site and ensure the safety of pedestrians passing by too. Any scaffolding work planned for buildings in town centres and in places frequented by pedestrians have to be approved by responsible authorities beforehand as a means of "safety first" during a task in crowded places. The NASC states that "clients, main contractors, designers, users (e.g. other contractors on site who will use the scaffold) and scaffold contractors have a duty to consider and control the risks to the general public as early as possible, at the enquiry stage, planning stage (i.e. planning, pavement license, traffic management, segregation, hoarding, lighting, signage, etc) and throughout the life of each project".
There are several additional features you can add to your scaffolding structure to ensure the safety of pedestrians and fulfill your duty of care. Learn all about them below…
Scaffolding Features for Pedestrian Safety
1. Debris Netting
When working at height, if appropriate measures are not put in place then there is a very real risk of items such as tools, debris or equipment falling from above onto the passersby. One way to remove this risk is adding debris netting to your scaffolding structure.  Scaffold netting provides safe containment of debris which protects the public, traffic and workers below from falling items. When even small items such as nuts/bolts/screws fall from a height they can cause injury and damage whatever is below. Installing a scaffold net is the best way to protect pedestrians from the hazards of a public construction site (and makes it easy for workers to retrieve fallen items from the net too). By aiding the containment of debris with a debris net, a safer environment is afforded to both workers and the general public as a whole.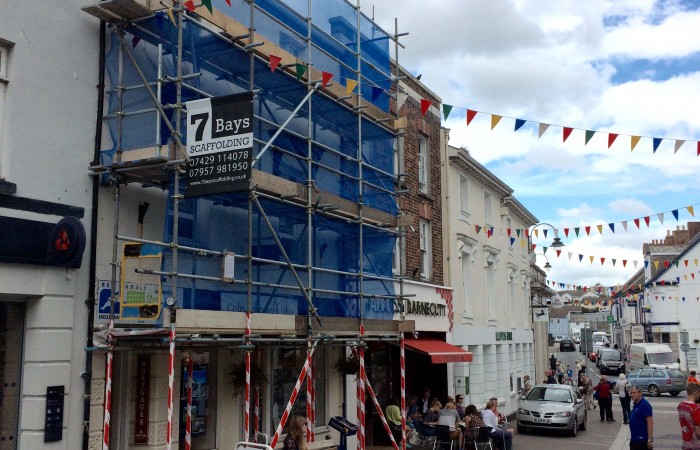 2. Pedestrian Canopy
In addition to a scaffolding debris net, a pedestrian canopy is also a scaffolding feature which can mitigate the risk of injury to workers and pedestrians. No-one wants to breathe in builder dust when walking past a construction site (!) so as well as protecting the public from dropped items, a pedestrian canopy also stops harmful dust and construction site environmental hazards from affecting passersby. Installing a covered walkway can also provide a sound barrier to minimise sound pollution of drills and other construction site activity, a necessary precaution when working in built up/public areas. Depending on the length/size of the covered walkway, lights might also be required to ensure a safe passage after dark. Pedestrian walkways can be used in conjunction with existing scaffold platforms to provide access to the building for office workers or home owners. A covered walkway is the best way of maintaining safe public access while construction work takes place, and we're fully trained and qualified to undertake all aspects of work in public areas, spaces and buildings. Providing covered walkways in Cornwall is just one of the scaffolding services we provide to ensure optimum construction site safety.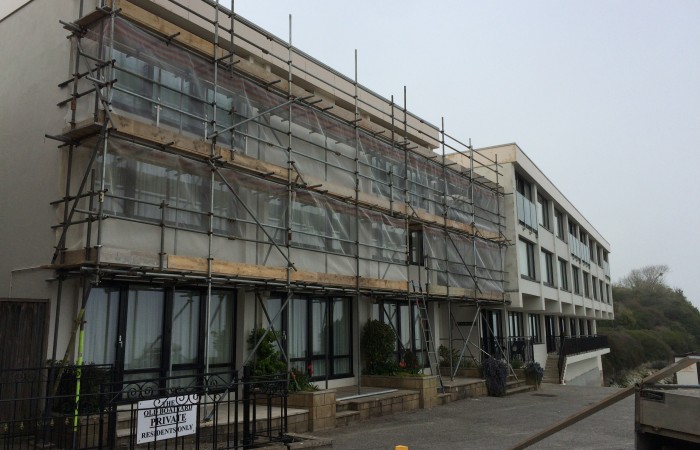 3. Shrink  Wrap / Temporary Roofs
High winds often impact high construction sites, resulting in potential dangers as objects blow off and fall towards the ground. One way to offer secure protection around the exterior of a building is with shrink wrap; the most reliable method of containment and protecting pedestrians. Tarps have the ability to come loose, especially in strong winds. Shrink-wrap helps secure the whole building while windows, siding, and other parts are in a more vulnerable state. We use the latest, most efficient shrink-wrapping technology when installing sides to completely weather-proof your construction project and enclose the temporary roofing structure, making it safe for pedestrians and workers alike. The shrink-wrapped design allows natural light to enter the site so that it remains a safe working environment for your team, and it is also 100% recyclable which makes it environmentally friendly. Shrink-wrapping is versatile, lightweight and gives a drum-tight finish which looks professional and smart.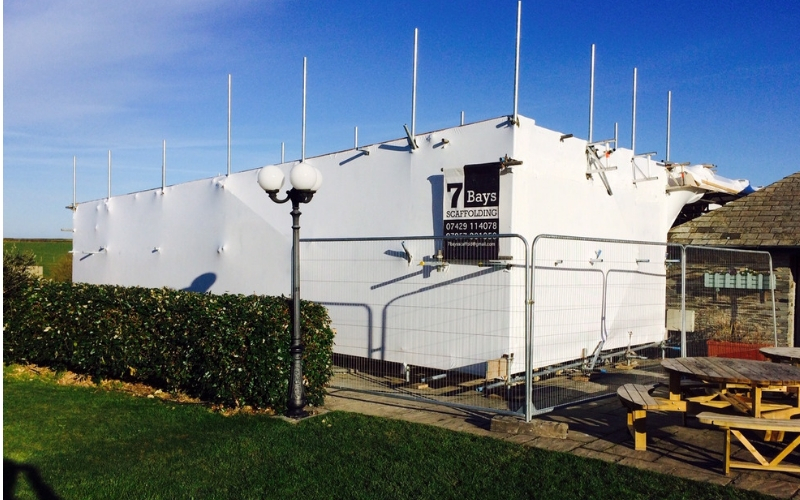 Scaffold safety starts from the ground up. Only safe work conditions and actions will prevent hazards of working at height. That, and using a scaffolding team in Cornwall who takes health and safety issues extremely seriously. We've been offering scaffolding and access solutions for both commercial and residential projects for over 15 years. If you'd like us to quote you for your next job please get in touch and we'll be only too happy to do the honours. We look forward to hearing from you!