Many types of construction projects use scaffolding, but how do you know when you need to start the search for a scaffolder in Cornwall? And what indicators mean that need scaffolding as part of your project? There are many factors to consider when deciding if the job requires scaffolding, simply ask yourself these five questions…
1) What are the Rules?
In most cases, health and safety guidelines advise that if you have more than four people working at height, then a proper risk assessment needs to be carried out. The conclusion of such a risk assessment will usually be that the safest way to carry out the job is with scaffolding. A good scaffolder (like 7 Bays Scaffolding!) will erect a safe scaffold structure for buildings and structures of any shape, size and dimension to ensure a safe fit for all tradesmen who will be working on the structure.
As per the HSE  website, those with duties under the regulations must ensure that:
All work at height is properly planned and organised
Those involved in work at height are competent
The risks from work at height are assessed, and appropriate work equipment is selected and used
The risks of working on or near fragile surfaces are properly managed
The equipment used for work at height is properly inspected and maintained
2) How Big is the Job?
Scaffolding can seem surplus to requirement for small 'one-man' jobs, so in these cases, many people use a safely-secured ladder. However, ladders can only be used for low-risk, short duration work, and sometimes a ladder doesn't give you full access to the entire roof and so the job only gets partly done. It's important to remember that scaffolding is not only designed to keep those working at height safe, but also those on the ground. If there is any risk of tools or materials falling from the roof, then scaffolding with an edge fitted around the platform is essential to retain a safe working environment for all your workforce.
3) How Long Will the Job Take?
Scaffolding is advised in cases where the project involves working at height for more than three days, and also where weather is looking temperamental. Cornwall is notorious for its sudden weather changes so it's crucial to retain a safe working environment by installing a temporary roof or scaffolding structure to maintain optimum safety for your project.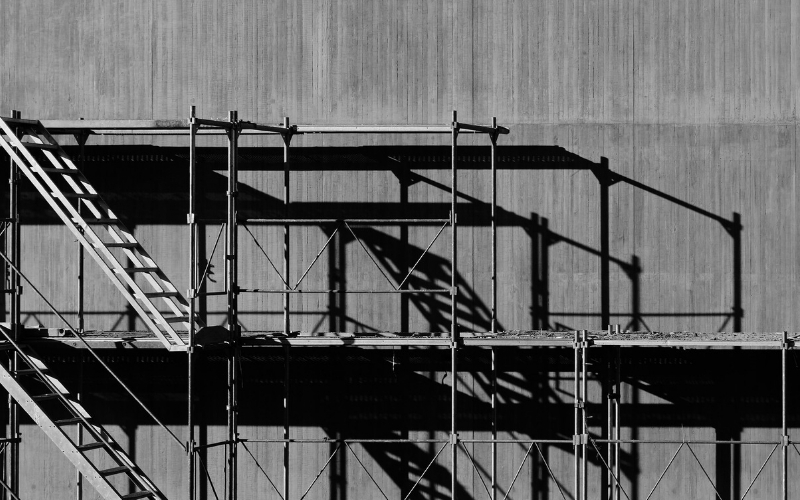 4) Do I Need a Platform?
Having a platform can help make even a one-man job so much easier, saving you time and energy so you can move on to the next project. A platform upon which to keep paint pots/tools when working at height can save your legs going up and down a ladder several thousand times (!) and also provides a safer working environment where there is limited risk of equipment falling on those below. According to HSE, where a ladder rises 9 metres or more above its base, landing areas or rest platforms should be used. A platform makes moving around at height a lot easier, especially when you have wintry weather conditions to contend with. As tempting as it is to do a job yourself, or save some money by skipping the scaffolding, you always need to think about the safer option as it will prove invaluable in the long run.
5) Will Scaffolding Make my Job Easier/Safer?
If the answer is 'yes' then it's a no brainer.  Here at 7 Bays Scaffolding we are proud to be CISRS-qualified, fully CAA-approved and CSCS-certified to give you peace of mind and make your project run as smoothly (and safely) as possible. Each crew is lead by a highly skilled and advanced scaffolder and all our staff hold valid CSCS health & safety cards. If you think the addition of scaffolding will make your job easier/safer then get in touch for a quote. We look forward to hearing from you!
7 Bays Scaffolding