Whether building 1 or 1000 new homes, the team at 7 Bays Scaffolding work with house building companies to provide new build scaffolding services in Cornwall and beyond. From tender stage, to scaffolding erection and safe removal at the end of the project, we work closely with residential and commercial development firms to ensure that their housing project runs smoothly from start to finish.  Our team of highly skilled scaffolding installers are experts in their field, we work with each client closely to create a bespoke scaffolding package which meets budget and timescale for all new build projects.
Scaffolding for New Builds
The purpose of new build scaffolding is to provide access for construction companies and trade workers to complete the properties in a logical and straightforward manner. This means delivering external and internal scaffolding at the appropriate points in the new build construction project. Externally, we create scaffold structures to allow bricklayers to construct each tier of the building and contractors to build roofs. We also provide temporary roofs to protect and insulate construction sites to enable the project to continue even in bad weather. Internally, we provide edge protection crash decks and birdcage scaffolding to facilitate internal work such as the installation of floor joists and plastering of walls. Where the property walls need to be rendered, we change the lift heights after the external work is complete. We adapt the framework to include edge protection handrails and ladder access to ensure that the rendering can be undertaken quickly, efficiently and safely.
Over the years we have developed an excellent reputation for providing stellar scaffolding services on new build sites; from our high level of service to our impeccable safety and environmental record, we're known for being the best. Whether you need scaffolding for a single domestic new build project or a large new build residential site, we have decades of experience working with local authorities, individuals and construction companies to get the job done efficiently, safely and within budget. Our on-site supervisors are fully-certified and really understand the challenges a new build site can present. We work closely with site management to ensure that niggles are worked out in advance so that it doesn't negatively impact the project at hand.
It's normal for various plots to be at different stages of development so that contractors can move from building to building and make the workflow smooth. Because of this, our scaffolders are adaptable on large housing developments because there are so many tasks being undertaken on the plots at the same time. They have to react when they are asked to add, change or remove scaffolding as any delay costs time and money.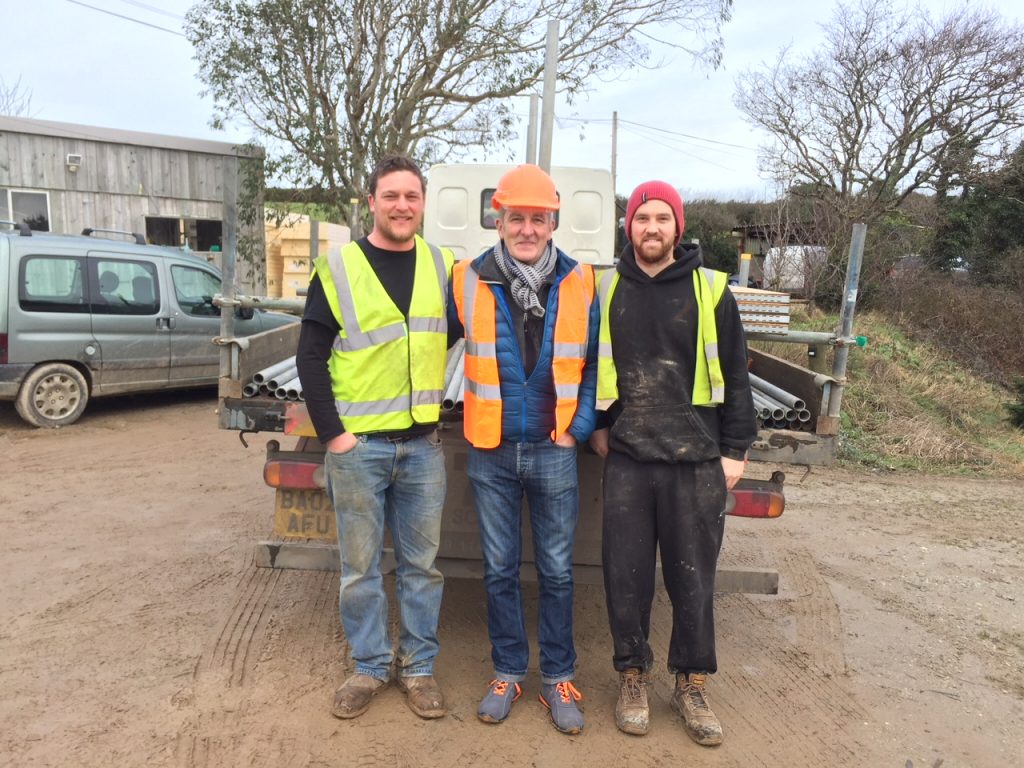 New Build Scaffolding Services in Cornwall
Both inside and out, it's common for workers to need loading bays where they can stack materials such as bricks, tiles and cement out of harm's way. This avoids workers being impeded by pallets or packs or tripping over carelessly stored materials. We provide these as part of the scaffolding structure, ensuring that they are large enough to hold the loads required. This means that contractors can access what they need at the time they need it to get the job done.
It's always interesting to provide new build scaffolding for clients, as there are so many different types of residential building designs available. In the past, we have contributed to standard housing estates, social housing and beautiful architect-designed properties. It's very rewarding to see our scaffolding solutions support the houses that individuals, couples and families will end up regarding as home. Providing innovative scaffold designs for new build houses is a really interesting part of the job and we love working with contractors to plan the next stage of their new build site.
There are a lot of demands on new build projects, especially on housing estate developments. Whether you are a novice self-builder or a high profile construction company, we are able to provide guidance on which scaffolding services will work best to keep the build moving along on schedule.
Get in touch today for a free quote for your new build scaffolding in Cornwall project. We are looking forward to working with you!